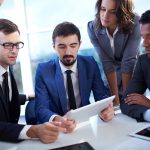 Combined with our industry leading sales consulting for top line revenue growth, Cross NW management consulting provides the experience and resources necessary to support the growth, efficiently delivery value to the customer, and position the organization to be successful well into the future.
Our experienced management consultants work to solve performance improvement challenges that enable client companies to grow revenue, improve margins and re position quickly in changing markets.  We believe that each company has the ability to dominate their markets and we help them realize their full potential.  We believe that if you are going to be in business you should be striving to leave your competitors scratching their heads and wondering how you do it.
Many times our management consulting services are used to help organizational improvements improve performance while ensuring that the entire organization is aligned and set up to successfully deliver on the company's objectives.  Our management consulting services are based on many years of training an field tested techniques that have helped companies in a wide range of industries.
Our experienced management consultants have even performed full transformations in businesses which required a cross-functional effort to alter the financial, operational and strategic trajectory of a business.
The depth and breadth of our experience becomes an extension of your team when you work with Cross NW.  We can help your company get to the top of your industry and remain their by continually moving ahead of your competition.  Our management consultants have an wavering focus on helping our clients dominate their markets.