The strategic advisors at Cross NW help our clients keep their business relevant and thriving in a changing environment.  The Cross NW Strategy professionals have a wide range of business experience. They help senior leadership across industries, functions and geographies transform their business and operating models to create value and drive growth.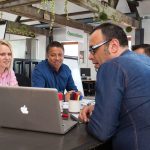 In the face of rapid change, you can't get by with a stagnant operating model or a strategy that sits on the shelf. We work with you to envision, develop and execute dynamic business strategies that drive profitability in a constantly changing environment.
Business leaders turn our deeply experienced Strategy team for critical insights on disruptive forces and leading practices for navigating today's fast-changing business environment.
Cross NW takes the time to understand your critical issues in order to serve as an objective advisor to help analyze, evaluate, and make informed decisions regarding our clients' strategic alternatives. Learn more about our strategists.